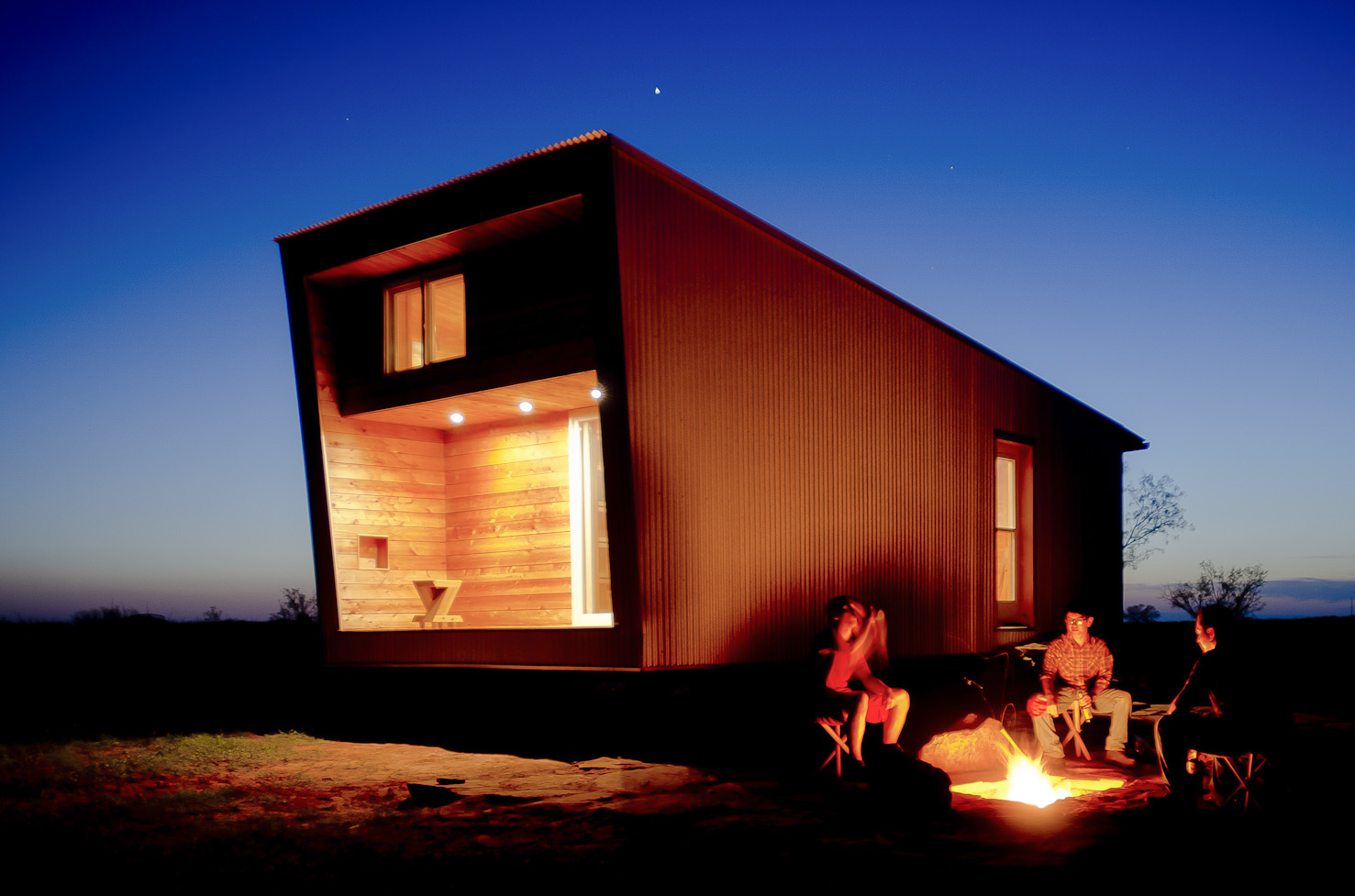 SUSTAINABLE CABIN, CROWELL, TX
Project Description:
A prefabricated, sustainable design-build project at a large State University in the American Southwest completed in 2010.
The Sustainable Cabin serves as an experimental research station in sustainable design and living at a remote site on the American High Plains, operating entirely off the conventional power grid, utilizing rain water harvesting, waste composting, photovoltaic solar-power, and passive solar design.
Historical precedents informing the design were Henry David Thoreau's cabin at Walden Pond near Concord, Massachusetts, and Le Corbusier's "Cabanon" Roquebrune-Cap-Martin in Southern France. Each of these works was built under significant budgetary constraints which are seldom considered in academic design studios.
Unlike other design build projects which are handed over to a private client upon completion, the client of the Sustainable Cabin is a not-for-profit foundation on the High Plains. By mutual agreement and support, the university and the foundation funded both the Cabin and the site so that future students can visit and study the Sustainable Cabin. The Cabin will serve as a Collaborative Living Research Laboratory for generations of student to come, allowing for the testing of successes and shortcomings in the project, with the possibility of upgrading its components as technology develops.

Project Team
Faculty from the following colleges and Departments were involved:
College of Architecture:
Urs Peter Flueckiger, Prof., Architecture
Michael Martin, RA, Instructor, Architecture
Benjamin Shacklette, AIA Assoc. Prof., Architecture
College of Visual and Performing Arts:
Department of Art
Carol Flueckiger, Assoc. Professor
William Cannings, Assoc. Professor
College of Engineering: Department of Mechanical Engineering.
Derrick Tate, Assistant Professor
Texas Tech Staff Members
Sam Beavers
Mark Bond
Frederick Porteous
Julie Rex
Denny Mingus
Spring 2008
Bradshaw, Deborah
Mecklin, Justin
Summer 2008
Piotr Chicinski
Folsom Cory
Michael Driskill
Brandon Pryor
Fall 2008
Joshua Atkins
Sara Bradshaw
Nicholas Genzer
Amanda Glidewell
Ginger Kapalka
Sergio Lainez
Jenna Murphy
Jordan Mussett
Eric Ritchie
Chelsea Sekula
Daniel Takahashi
Douglas Zimmerman
Summer 2009
Ian Britt
Stephanie Hanlon
Cherese Wheeler
Fall 2009
Taylor Coleman
Crystal Davis
William Denman
Edmundo Fortuna
Kory Murphy
Jonathan Pace
Lauren Rentschler
Kenneth Roberts
Andrew Stiglmeier
Andrew Tyler
Spring 2010
Gregory Hemmelgarn
Brendon Hoffman
Jonathan Lemaster
Christina Liebelt
Gilberto Lopez
Phillip Miller
Michael Morow
Kenneth Olson
Garik Rowe
Parker Sands
Amador Saucedo
Brian Wills
Austin Wilson
Fall 2010
William Cotton
Jason Fancher
Michael Franks
Ji Eom
The following individuals and companies sponsored this project:
The Sustainable Cabin is generously supported by a Texas Tech University Research Enrichment Fund Grant; Fred Koch, Stacy Henry and John Black, The Pease River Foundation, Crowell, TX; F. Marie Hall; John Dea, Dea Doors and Windows; Mike Harendt, MBCI Metal Buildings, Houston TX; Rex Neitsch, EcoBlue; and Larry Harvey AIA, Chapman Harvey Architects; Lumber Liquidator, Amarillo, TX; Morsø USA, Craig Shankster, Portland, TN; BioLet Toilet Systems, Fresno, OH. Lowes, Home Improvement Center, Lubbock, TX.